During the month of July Nau opens its doors to children from 3 to 12 years old.
The Nau Escola team has designed this monographic course on creativity and emotions with the aim of offering children a unique, different experience focused on relating to creativity and developing creative processes based on different disciplines.
At NAU we have a team with specific training in emotional accompaniment and specialists in the different areas of learning that will be worked on during the monographic.
We follow the same educational line as the school: an active education that takes into account the interests of the children and their rhythms through respectful accompaniment. The pupils choose the activities they want from among all the material we offer them.
How we will do it?
During these weeks, through different activities related to the creative process and emotions, the children will be introduced to the worlds of:
– Performance, illustration and different printmaking techniques.
– Body and consciousness.
– Logical and creative thinking.
– Creative writing.
All activities will be adapted to the maturity level of the children taking part.
DATES, TIMES AND PRICES
It is offered from Monday 3th July to Friday 28th July and the timetable is from 9am to 2pm, with the possibility of early school from 8am and canteen accompaniment until 4pm. The school does not have a kitchen service, so children must bring their own food from home.
1 week enrolment: 150 €.
2 weeks enrolment: 250 €.
3 weeks enrolment:: 350 €.
4 weeks enrolment: 450 €.
Enrolments can be for consecutive or alternate weeks.
The "escola matinera" service is 35 € and the canteen service is 45 €.
MENU SERVICE
Children attending the Summer Monographic can extend their day until 4 pm. Families can bring their own food or request a menu.
– Accompanying service from 14 to 16 h: 45 € per full month / 22,50 € per fortnight / 4,5 € per single day.
– Menu service: This can be booked as a fixed service or for individual days. The price of the service  7  € per menú and day and it must be added to the price of the accompanying service.
Requests for single-day menus must be sent to this e-mail address at least one day in advance in order to be processed.
The menu will not be cooked at the centre, but Yennifer will bring the freshly prepared food from her catering company Cocina con Amor. This catering is very much in line with the philosophy of the school: healthy eating with organic fruits, vegetables and grains, with seasonal and local produce. This menu consists of a main course and desserts.
The desserts are made without refined sugars and are sweetened with healthier ingredients, such as homemade date paste.
The menus will arrive at the school in individual containers ready to be eaten or heated in the microwave if necessary. These containers are mostly made of biodegradable and/or 100% recyclable material.
Attached is the menu designed for the month of July 2022 as an example: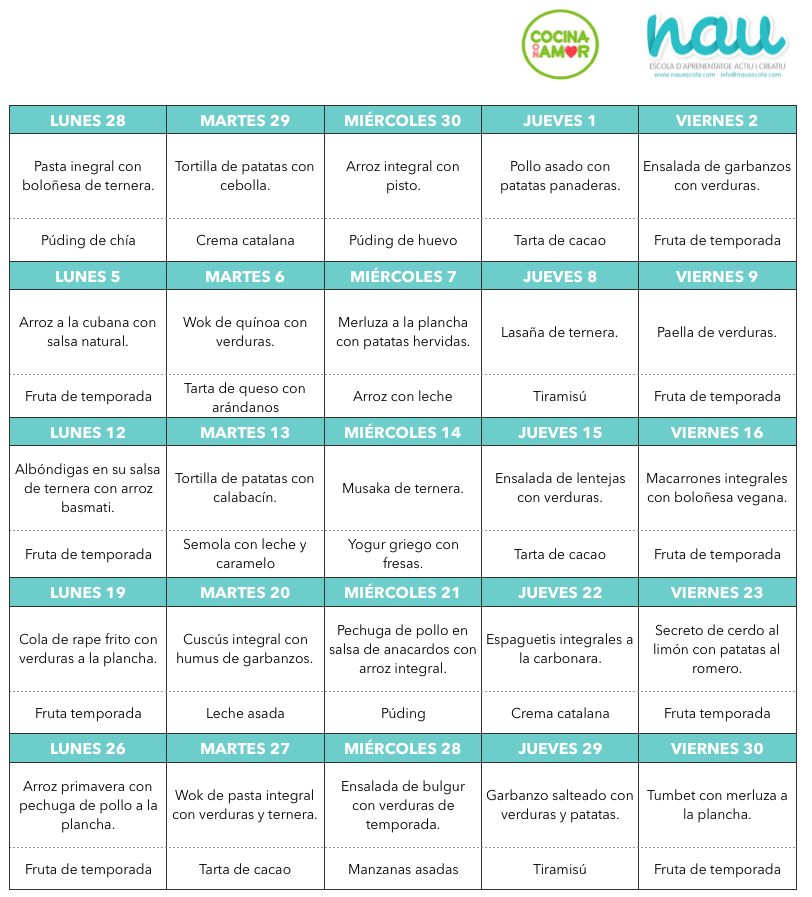 INSCRIPTIONS
If you are interested in our summer school, you can contact us through this form and we will get in touch with you.