TIMETABLE AND FEES
Early morning school:  from 08.00 hrs.
Early Childhood and Primary school hours:  9.00 - 14.00 h.
Secondary school hours:  Monday to Thursday 9.00 - 15.00 h, Friday 9.00 - 14.00 h.
School canteen: 14.00 - 16.00 h
Early Childhood (3-6 years old): 10 fees of 452 € (from September to June)
Primary (6-12 years): 10 fees of 467,55 € 10 fees from September to June)
Seconday (12-16 years): 10 fees of 550,00 € 10 fees from September to June)
Discounts: 2nd child 5% discount, 3rd child and subsequent 10% discount.
The cost of the enrolment fee is 452€ for early childhood education, 467.55 € for primary education and 550,00 € for secondary education. This fee will be paid only once in all the student's schooling period.
SCHOOL SERVICES
The school will offer the following services during the school year:
EARLY MORNING SCHOOL:
Timetable: From 08.00 to 09.00 hrs
Monthly fee: 35€
One day: 3,50€
SCHOOL CANTEEN:
Timetable: From 14.00 to 16.00hrs.
Monthly fee: 45€
One day: 4,50€
* Both services will be offered as long as there are a minimum of 5 students enrolled.
* Currently the school does not have kitchen service, but we offer the possibility for the children to bring in their own food.
SCHOOL CALENDAR
El calendario escolar de Nau Escola es el que marca la Conselleria d'Educació de les Illes Balears: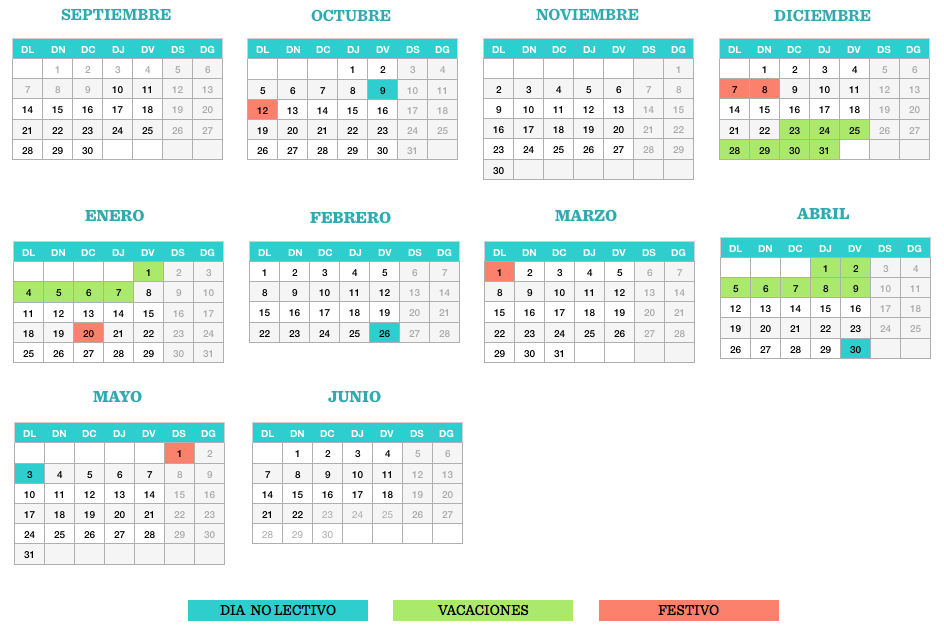 TOTAL DÍAS LECTIVOS: 176
Inicio del curso: 10 de septiembre de 2020
Final del curso: 22 de junio de 2021
PERÍODOS DE VACACIONES
Navidad: del 23 de diciembre de 2020 al 7 de enero de 2021, ambos incluidos.
Páscua: del 1 de abril al 11 de abril de 2021, ambos incluidos.
DÍAS FESTIVOS
12 de octubre: Fiesta Nacional.
7 de diciembre: lunes siguiente al día de la Constitución.
8 de diciembre: Immaculada Concepción.
20 de enero: Sant Sebastià.
1 de marzo: Dia de les Illes Balears.
1 de mayo: Fiesta del Trabajo.
DÍAS NO LECTIVOS
9 de octubre: llibre elección del centro.
26 de febrero: fiesta escolar unificada.
30 de abril: libre elección del centro en sustitución de día 24 de junio, festivo local coincidiendo con periodo no lectivo.
3 de mayo: libre elección del centro.